Howard Mintz, MD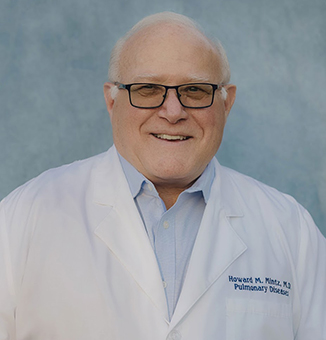 Howard Mintz, MD
Dr. Mintz loves providing personal care for his patients and considers this a privilege. He strives to view the entire patient when making a clinical diagnosis. He believes you need to be a learned general internist to provide the best pulmonary care. He was named the outstanding medical resident out of a class of thirty-three senior internal medicine residents. His colleagues have named him "Best in Dallas for Pulmonary Diseases" for over 15 years continuously.
His areas of interest include management of COPD, bronchiectasis, sleep-disordered breathing, asthma, interstitial lung disease, nontuberculous tuberculosis, and the manifestation of COVID-19 lung injury patterns. The challenges of treating COVID-19 lung injury have occupied a considerable amount of his professional career in the past two and a half years.
When he is not working, he loves spending time with his wife and family, reading, swimming in the ocean, water skiing, and following his beloved Dallas Mavericks.
Medical Education:
University of California, Irvine, College of Medicine
Medical Residency:
University of California, Irvine, Affiliated Program
Pulmonary Fellowship:
University of California, Irvine, Affiliated Program, University of California, Irvine Medical Center, Long Beach VA Medical Center, Long Beach Memorial, and City of Hope
Membership:
American College of Chest Physicians, Fellowship
Certifications:
American Board of Internal Medicine
American Board of Internal Medicine, Pulmonary Diseases