Mythili T. Venkataraman, MD, FCCP
Pulmonary Disease | Internal Medicine| Critical Care Medicine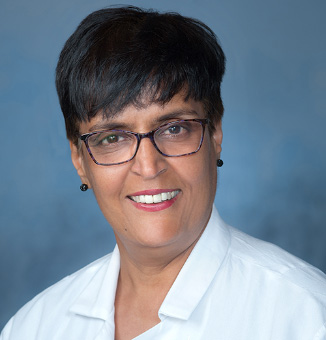 Mythili T. Venkataraman, MD, FCCP
Mythili T. Venkataraman, MD, FCCP is a board certified pulmonologist in internal medicine, critical care and pulmonary medicine. Her professional interests include the diagnosis and treatment of a variety of pulmonary diseases such as asthma, COPD, lung cancer, pulmonary fibrosis, occupational lung diseases, and pulmonary infections.
Dr. Venkataraman began her medical career at Kilpauk Medical College in Chennai, India. She moved to the United States to complete her residency at the Woodhull Medical Center in Brooklyn, New York. She completed her fellowship training at New York Hospital Medical Center of Queens and Mount Sinai Medical Center in New York. Dr. Venkataraman has served as the Director of Pulmonary Services at several different hospitals. Additionally, she has held faculty appointments at Mount Sinai School of Medicine and Eastern Virginia Medical School.
In her spare time, she enjoys reading, writing, traveling, gardening, and spending time with her husband and two children.
Medical School
Kilpauk Medical College, Chennai, India
Residency
Woodhull Medical Center, Brooklyn, NY
Fellowship
New York Hospital Medical Center of Queens, Queens, NY
Mount Sinai Medical Center, New York, NY
Memeberships
American College of Chest Physicians
American Thoracic Society
Certifications
American Board of Internal Medicine
American Board of Internal Medicine, Critical Care
American Board of Internal Medicine, Pulmonary Medicine