Ammar Malik, MD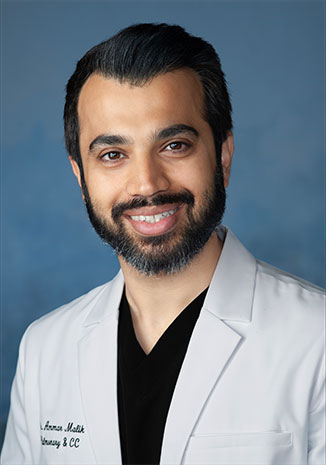 Ammar Malik, MD
Dr. Malik is a board-certified Pulmonologist who strives to develop an individual treatment plan to help each of his patients achieve the best possible outcome. While recognizing the complexity of each disease process and the effects it has on a patient's well-being, he practices empathy and diligence in his approach to patient care.
Dr. Malik completed his Pulmonary and Critical Care Medicine fellowship at the University of California San Francisco, Fresno where he also served as Chief Fellow. During his time in fellowship, he gained extensive training in treating patients with Asthma, COPD, post-COVID syndrome, Interstitial Lung diseases, Bronchiectasis, Chronic Cough, Pleural diseases, and Pulmonary Vascular disorders such as Pulmonary Hypertension. He also received extensive training in advanced Pulmonary Procedures including Bronchoscopy, EBUS and indwelling Pleural Catheters.
Dr. Malik completed his residency in Internal Medicine at Mercy Catholic Medical Center which is affiliated with the Drexel College of Medicine in Philadelphia. During his time in Residency, he earned numerous awards including the prestigious Jules Rominger Award for Outstanding Humanitarianism and Excellence and the award for Clinical Excellence in Medicine. He also served as Chief Resident where he spent an additional year teaching and mentoring physicians in training.
In his spare time, he enjoys spending time outdoors and traveling with his wife and two kids.